When starting any new business, part of the process is researching your genre to see if anyone is doing something similar.  So I started having a sticky beak at the different conceptual pet photographers around (and there is some amazzzing stuff out there btw!) but it would seem that I can get easily distracted.  I was soon transported back to the 1980's… and after gladly losing an hour of my life, I can safely say if you ever need a little trip into the bizarre (good or bad – it's up to you)  then search "pet photography images 80's.   Here is a teaser…Your welcome.
But it got me thinking, while pet photography is becoming more and more popular now, being obsessed with our pets is not something new so when did pet photography begin… Right from the beginning it would seem!
This is considered to be one of the oldest known dog photo, taken in the 1850's by an unknown photographer.  Named  "Poodle With Bow, On Table", it would seem that creativity did not extend to the naming of photographs back in those days.    Luckily for all the pets out there, technology has come a long way, as it is believed that this dog had been sedated to stay still for the long exposure needed for a daguerreotype photo.
But for those who know me, or at least know my work, you will not be surprised to learn that I fell in love with the photographs of Harry Whittier Frees (1879–1953).  His journey into weird and bizarre animal photography started in 1906, when he put a party hat on the family cat.  The hilarity of it all had him sold on the idea of pet photography with a "twist" and branched out to include other animals in his portfolio, and I'm so glad he did.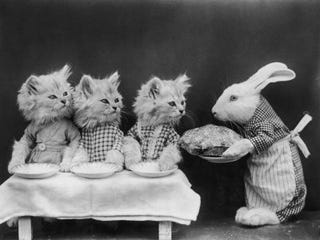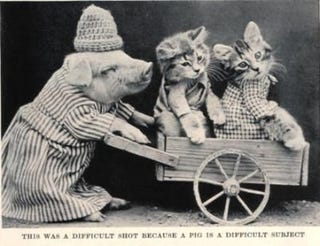 If I had a time machine Harry would be the first on my visit list to pick his brains, but alas all I have now is the preface of his book  "Animal Land in the Air" .
Rabbits are the easiest to photograph in costume, but incapable to taking many "human" parts. Puppies are tractable when rightly understood, but the kitten is the most versatile animal actor, and possesses the greatest variety of appeal. The pig is the most difficult to deal with, but effective on occasion. The best period of young animal models is a short one, being when they are from six to ten weeks of age. An interesting fact is that a kitten's attention is best held through the sense of sight, while that of a puppy is most influenced by sound, and equally readily distracted by it. The native reasoning powers of young animals are, moreover, quite as pronounced as those of the human species, and relatively far surer.
So while pet photography is becoming more and more popular, it definitely is not a new concept.  Have a stroll through history with this Pinterest board and see how pet photography has progressed through the ages.
Follow Angie Connell Photography's board History of Pet Photography on Pinterest.
Favor weird pet photography?… I have a feeling that we would get along 😉
Learn about how you can have your own quirky pet portrait